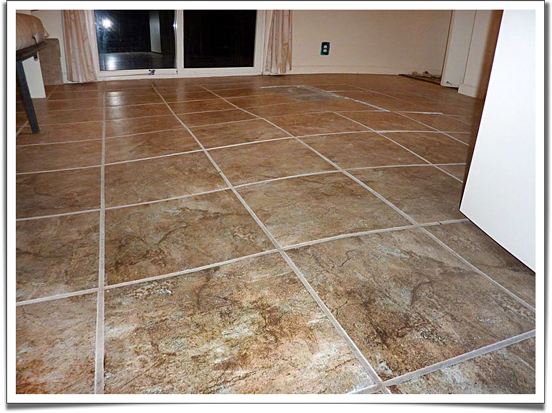 Tile Styles was called to inspect this tile floor. The center of the floor was bulging upward. This is called Tenting Tile.
---


Tenting tiles can have a number of causes and generally appears as a raised area of tile with a hollow cavity below.

Clearly these tile had lost adhesion to the subfloor and had to be removed. Only after the tile are removed could we offer our explanation about the problem area.

In these images you can see the raised tile and hollow cavity beneath the tiles.

Most of the tiles in the center of the room had become tented. We carefully saved the remaining tile and prepared them for re-use.

This brings up an important reason to have additional tiles leftover after the initial installation so repairs can be performed using the same tile. Often if you cannot locate and purchase the same tiles years later, the manufacturer's colors may have changed just enough to NOT match your original tiles.

In this case the repair required to many tiles to replace so fortunately we were able to save the removed tiles and re-use them. Otherwise new tiles would have to be purchased and a new design or layout would have to be installed.

After our repair was complete, the homeowner had her original floor back nearly as new yet better than the original installation.