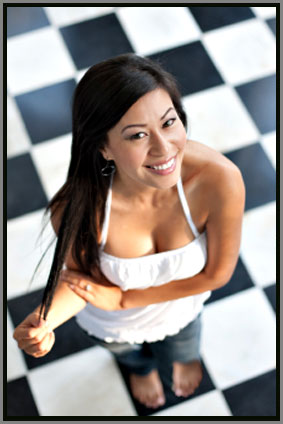 Client Feedback
"I needed 2 bathrooms remodeled. The first contractor took months, had to be fired and that tub-shower combo looks terrible and will eventually have to be torn out and redone. The second contractor did the second bathroom's shower which was MUCH worse so we had to fire that guy too. I finally got Carlton's name as being really good. I had to wait months because he's always busy. He completely ripped out that shower in the second bathroom and had to start from scratch because contractor number 2's work was SO substandard. Carlton does quality work and seems to be a rare bird - in being a real professional since he knows what he's doing, does a quality job, and works as quickly as a quality job requires. I won't bother to get a second quote on any future tile work I need to get. Thanks Carlton ~ Terry K. (Google Reviews)
---
"Carlton Stout from Tile Styles, just completed our Master Shower. He did an incredible job as you can see in [Google Photos]. We are truly satisfied with his professionalism, patience and creativity in turning our shower into a beautiful master piece. I would highly recommend him for anyone's job. " ~ Michael C. (Google Reviews)
---
"I selected Carlton based both on both recommendation from tile store owner and his design suggestions. He did not disappoint. He and his partner/helper were on time every day, did what they said they'd do every day, and made certain that they never made a mess in the process. They always left the job so that I could still use my house, and left with everything clean and orderly. Most importantly, their work was by far the most professional and satisfying of any project during the building of my home here in Hawaii. He's definitely the tile mason to choose!" ~ Carol C. (Houzz.com)
---
"Carlton does a Amazing job. He just transformed my bathtub to something very Luxurious!" ~ Aaron I. (Better Business Bureau)
---
"I've used Tile Styles over the past 10 or so years from a small project to a major project. Carlton is a true professional and perfectionist. He is extremely knowledgeable and very patient. He will not rush a job or make a compromise if things pop up along the way. I recommend him 110%." ~ Michelle P. (Better Business Bureau)
---
"Professional communication. Pro high quality work. Very pleased." ~ Susan S. (Better Business Bureau)
---
"The work is beautiful yet better than that, all possible areas that may have become problems in the future were repaired. We are so impressed with his work and work ethic that we will refer to whomever need a job done well." ~ William B. (Better Business Bureau)
---
"We highly recommend Carlton Stout of Tile Styles LLC. Carlton's masterful installation of porcelain tile on our kitchen backsplash walls beautifully transformed the kitchen and also greatly enhances the adjoining open living room/dining area. Carlton takes pride in his workmanship. His expert skill, experience, attention to detail, and his keen eye for layout and design are apparent in the quality of his finished product. We couldn't be happier with his work. Carlton was always professional with us from our first phone call through completion of the job. He was punctual; honest, fair and accurate in his pricing, written proposal, design suggestions and scheduling; he was thorough, efficient, and kept his work area neat and organized. It was a pleasure working with Carlton and we would hire him again in an instant." ~ D. Hay (Better Business Bureau)
---
"Carlton worked well with us in remodeling our bathroom. He started with a partially demolished room caused by a leaking shower pan, suggested various remodeling and reconstruction options, gave us an exact (and extremely accurate in the end) estimate of the costs, materials and time required for the job. He was easy to work with, started and finished exactly when he said he would, did a very careful demolition and reconstruction, was considerate of the rest of our home and was very particular and exact with his work. He turned an unfortunate situation into a dramatic improvement for us. We highly recommend Carlton and Tile Styles." ~ Chris K. (Better Business Bureau)
---
"Excellent work and very positive attitude of the professionals who completed the work. Cleaned up area after completion of their work. They took care to make sure we liked the finished product. Would highly recommend their services." ~ Shirley W. (Better Business Bureau)
---
"Working with Carlton of Tile Styles LLC was a pleasure. The quality of the tile work was excellent, work was completed in a timely manner and within budget. Carlton explained the complete installation process in term we could understand and provided instruction on maintaining our floors." ~ Leonard W. (Better Business Bureau)
---
"Aloha Carlton, Thank you and your crew's hard work. I love my new floor!" ~ David & Lily H. (email feedback)
---
"Thank you for the work that you've done on our hearth and master bath vanity. Surely we'll enjoy your craftsmanship for years to come." ~ Carolyn H. (postcard feedback)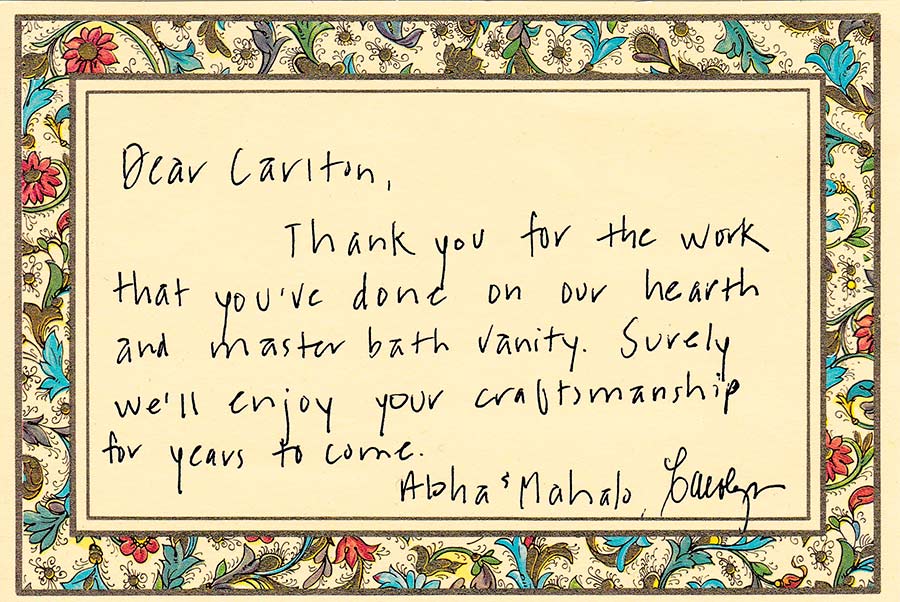 ---
"I couldn't be happier about the results of my tile project. The level of professionalism is a rare find in today's market. My project was carried out in a timely manner which made it easier for me to plan for the next step to keep things rolling forward. I was a pleasure doing business with you and I plan to engage your services for my next project. "
~ Roby L. (email feedback)
---
"Without reservation, we would recommend Tile Styles to anyone looking for a flawless finished product for a reasonable price. Carlton met with us in our home after I called for a quote. He answered our many questions and gave us a detailed estimate via email. He was good to his word and started our project on schedule. He arrived daily as promised and worked diligently and expertly throughout the 2.5 weeks he was on site. The transformation in our home is dramatic and we are so grateful to have found someone so professional in the tiling business."
~ Maile & Dave B. (Better Business Bureau)
---
"I originally contracted with Tile Styles' owner, Carlton, a few years ago to tile a rental property of mine. A year or two later, I again used Carlton to tile a large room addition. I have also referred Carlton to very satisfied friends who were looking to have their homes and rental properties tiled as well. They, like me, have had Tile Styles return more than once for additional jobs. I can unequivocally state that there is no other tile service I would consider other than Tile Styles and Carlton."
~ Mxmikol (Houzz Review)
---
"I hired Tile Styles LLC when were building our new home here on the Island of Hawaii. If everyone was as through as Carlton, the jobs would much easier. We had him do all our bathrooms and down stairs and the work was outstanding. He also did our upper decks and yes it was done as asked. Some time later we asked him about tiling our down stairs lanai, and then again the work was outstanding. We would recommend him to anyone knowing that he would do the job as asked."
~ outback1225. (Houzz Review)
---
"I have hired Carlton three or four times over the last few years, several times when there was a crisis, and all I can say is that he is a gem! Carlton is always calm and positive, diagnoses the problem, discusses the solution, arranges a time to do the work and shows up when he says he will. He truly cares about the quality of his work, performs using the highest standards and is always pleasant and willing to take the extra time to answer questions. I recommend him highly and without reservation."
~ Samantha P. (Better Business Bureau)
---
"Excellent service in all areas, detailed, clean, considerate of owner, prompt, courteous and professional."
~ Diana & Daniel B. (Better Business Bureau)
---
"Carlton did the demolition of the existing powder room , installed backerboard, and tiled and grouted . He had to bullnose a lot of tile, and polished them beautifully. His work is precise, and artistic. He showed up when he said he would, and kept things tidy. I wish he had done the rest of the bathrooms in this house."
~ Laurayne B. (Angieslist)
---
"My shower looks amazing. I'm so pleased with Carlton's work"
~ Michael B.
---
"Carlton is the consummate professional: great work, on time, on budget, and a real artist's eye. He has tiled almost every room in our house and our lanais (including re-doing a botched up job from another contractor."
~ Laura R.
---
"Carlton tiled my house about 15 years ago and it's still in perfect condition. Not one tile has ever chipped, cracked or loosened, even where the washer and dryer sit. He does quality work and has extensive knowledge of the tile industry."
Nicole V.
---
We just got home and it looks WONDERFUL --- WE LOVE IT !!!! THANK YOU !! THANK YOU!!! THANK YOU !!! And more thanks for finishing off around the Ohia !!!
~ Su W.
---
"Couldn't be more pleased.: Carlton's work is top notch. He provided a scaled layout drawing and worked out all the details and potential problems before he began laying tile. His design suggestions were excellent, and once he began the installation he powered right through until finished. If all the sub-contractors on my remodel were as competent, reliable, and easy to work with as Carlton I would have far less gray hair."
~ Yahoo Reviews
---
"I personally and highly recommend Carlton!: Carlton returned all my calls and kept me informed every step of the process. We trusted Carlton to tile our entire house while we maintained our day jobs. He is truely a professional. The quality of the job was beyond our expectations! We get plenty of compliments from visitors when they look down at our tile. Carlton also provided us follow up after the job was done and made absolute certain we were 100% satisfied! Not convinced? Just ask the local tile shops what they think of Carlton like we did and they will all tell you they would highly recommend Tile Styles!"
~ Yahoo Reviews
---
"HIGHLY RECOMMENDED!!: Carlton is a true professional. He tiled our kitchen counters for us and we couldn't be happier. He did the work quickly and it was done perfectly. His attention to detail is remarkable. We won't do any more tile work without Tile Styles."
~ Yahoo Reviews