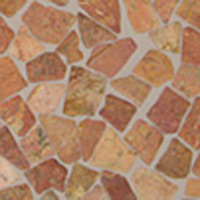 Pebble Tiles are a wonderful design compliment to other tiles especially for shower floors. Pebbles come in a variety of colors, sizes, and texture.

For shower floors we like to place the grout level just below the surface of the pebble so the texture delivers an excellent massage to the feet. During installation, we will consult with you about how much texture you wish to feel then we'll adjust the grout leverl to give you the best results.
Pebbles also give an added level of safety in that they give more physical texture and grip than regular tiles thus a less chance of slipping.
We recommend Laticrete Epoxy grout which give a consistent color and a virtually maintenance-free floor. No more fighting soap scum and residue.
We can even retrofit your existing tile floor if you wish to add pebbles to a shower you already have.