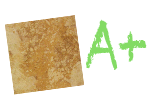 The quality and grades of tiles are not graded with this A through F standard were familiar with but there are terms and standards in the industry that helps us compare the choices of tile.
Various retailers or manufacturers used their own grading system and have not been unified across the industry. For example, one home center uses "Grade 1" to describe the production quality of the tile, such as color or texture blemishes while other distributors relate grade to the quality & process of the actual material used such as firing temperature and scratch resistant durability.
A few terms should be kept in mind:
The density of the tile impacts many of the quality traits in the tile. The Porcelain Enamel Institute sets standards for the grades of tile based on density and durability. Grade 5 is the highest and given to tiles suitable for high-traffic residential application and commercial use, while Grade 1 being the lowest, generally given to soft wall tile or saltillo tiles.
Porcelain tiles have a more dense thus stronger durability in terms of 1) least water absorption and 2) higher density. This results in tiles that 1) are less likely to not freeze and break under cold weather conditions, and 2) will not scratch or beak as easily.
Ceramic tiles, although very durable with proper installation, are softer and less dense than porcelain.
Another benefit of some porcelain tiles are that they are called "Through-Body" which mean the color that you see at the surface exists throughout the body of the tile thus if the tile is ever chipped then it will be less noticeable than red-body ceramics or color-glazed tiles.
One other property of tile is call "Coefficient of Friction". This relates to the physical texture of the tile and how "Slip Resistant" the tile is. The higher the number the more slip resistant it is. The Americans for Disabilities act requires the C.O.E to be higher than 0.6.
One rule of thumb to follow is never use a "wall" tile on floors due to their softer quality however you can use a floor tile on wall or other vertical surfaces. Just keep in mind you will need corner trim pieces, known as "bullnose", to finish edges of walls.
Whenever in question about quality, ask the retailer or the manufacturer directly about these terms:
Porcelain versus Ceramic
PEI Wear Rating
Coefficient of Friction
Glazed versus Unglazed
Through-Body color
Stay tuned for our next article about the Quality of Glazing and Firing